ODIA Normandie is the Artistic Development Office of Normandy. We contribute to the artistic and cultural development of Upper and Lower Normandy. We act as consultant and facilitator to regional performing arts professionals in theatre, dance, music, circus and street arts.
We assist companies and venues in developing their touring activities, and local authorities can consult us about arts facilities and season programming.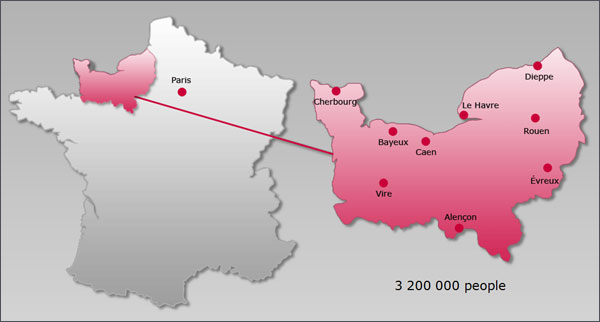 Consultancy
ODIA Normandie's team gives artistic, strategic and technical advice to performing arts professionals, and we accompany them in their development.
We can provide advice to local authorities and independent organisations wishing to improve or construct arts facilities. We offer evaluations of their existing arts facilities, needs analyses, as well as technical recommendations, corresponding to their aims and visions.
Touring support
Normandy companies can be helped in two ways:
When these companies tour in Normandy we can help receiving venues complete box office goals.
We can also support companies directly in their touring and networking activities outside of the region, in France and abroad.
Requests for financial participation are evaluated on a case-by-case basis. Involving us in touring and programming decision-making processes concludes long-term partnerships with arts organizations.
ODIA Normandie is part of a nationwide touring network, with ONDA, ARCADI, OARA, Réseau en Scène - Languedoc-Roussillon and Spectacle vivant en Bretagne.
Professional networks
We encourage and organize meetings and relation-building activities. We coordinate a network of production and stage management professionals (2rt), as well as for marketing, press and promotion.
Informing and qualifying
We help professionals stay well informed and get adequately qualified.
ODIA Normandie provides:
consultation about legal and regulatory matters, and access to relevant documentation,
a website listing sector professionals and communicating current arts news.
In collaboration with local professionals and national bodies, we analyse training needs and contribute to the proposition of adequate training programs in Normandy.
Europe and beyond
ODIA Normandie is a regional hub for the National Cultural Contact Point (Relais Culture Europe). We initiate, guide and accompany Normandy arts professionals in their European projects.
Since 2009 we have been leading the project DanSCe Dialogues 2, alongside our French-English partners. This project was selected by the European Cross-border Cooperation Programme INTERREG IV A France (Channel) – England, co-funded by the ERDF
Contact and futher information
Eliane Pasquero, Artistic and international Consultant
02 31 35 58 72
06 73 17 35 35

ODIA Normandie on Facebook | ODIA Normandie on Twitter | Subscribe to our newsletter